Our History
The Maas family fascination with Hudson automobiles began in 1949 and now spans three generations. In '49 Russell Maas began working as a mechanic at a Hudson dealership in the small town of Manito, Illinois where he raised his family. He worked there until 1954 when Hudson merged with Nash and he began a new career as a postal worker.
Russell's son Randy Maas caught the Hudson bug in 1967 during his college years. He was going to a commuter college and needed a car to get back and forth to school. A nearby uncle had a 54 Super Wasp he was no longer driving and a $25 deal was struck. Although when Randy went to get the car his uncle was glad to have it off the property and the $25 was never exchanged. The Super Wasp served Randy through his college years and was sold in 1972.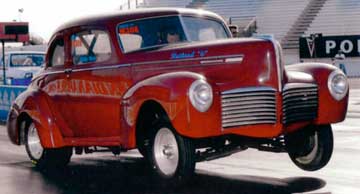 There have been a number of Hudson's in Randy's life since 1967 some of them family cars, some race cars, including a 53 Hornet-4 door, 42 Commodore-8, and a 51 Commodore-8. He currently has a restored 49 Super 6 Coupe and a 42 Commodore 8 he recently bought to drive.
Then there is the 41 Hudson Coupe that he bought to restore in 1985, but after visiting a few local drag strips decided on building a 41 Hudson drag car while his sons Russ and Steve were kids. The family spent many weekends racing their coupe and both his boys earned their NHRA license behind the wheel of that 41 coupe. The engine is a Hornet 308 flathead-6, stroked a half-inch with 7X valves, Boss pistons,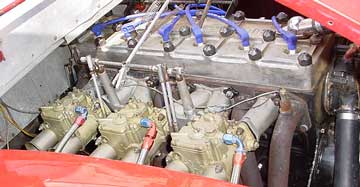 Clifford headers and 3 Weber side draft carbs. A turbo 400 tranny transfers power to a Chrysler 8 ¾ inch read end. The car turns 12.53 in the quarter mile with a top speed of 101mph. That's fast for a big, heavy 3000 pound Hudson.
The cars were built in an automotive shop in the garage of Randy's funeral home business, where in 1987 he acquired the machine shop equipment he needed to rebuild engines. His shop has everything needed to build engines for street and track. Randy is one of the few engine machinists left who pours babbitt bearings for the early engines. Since 1987 he has built over 100 flathead Hudsons for street and racing as well as numerous V-8 racing engines, for a variety of customers all over the world.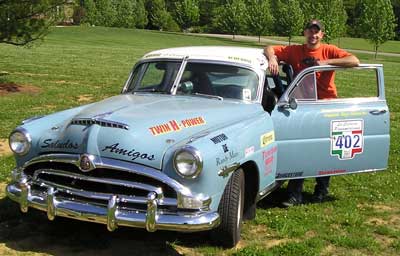 Sons Russ and Steve have careers of their own, but still find time for Hudsons. Russ has a shop nearby in Heyworth, IL, where he meticulously restores a few Hudsons a year and sells newly manufactured Hudson parts for Hudson hobbyists and restorers. A number of his parts like center steering pin, timing chain and convertible bolts are superior to the originals and are a must for any restoration. He is also building his own Hudson racecar from a 51 Hornet Coupe.
Steve finds time away from his job as a CNC programmer for Caterpillar to help his dad around the machine shop. This year they plan to build 10 regular engines and 3 race engines.
With over 25 years building and racing Hudsons the Maas family offers better, stronger more durable parts to rebuild your 308/262//232 Hudson engines as well as restoration parts for Hudson cars. Whether your Hudson is stock, built for mild performance or a full race-car, 21st Century Hudson has the parts and know how for all your Hudson needs.