Hudson Engine Parts
---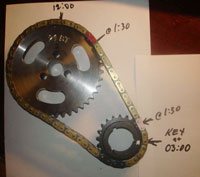 True Roller Timing Chains: $275
For the 232/262/308 engines. This replaces the original timing chain, which are prone to stretch and reduce engine performance and eventually "gear jumping". These true roller timing chains will not stretch and are an easy installation with clear markings.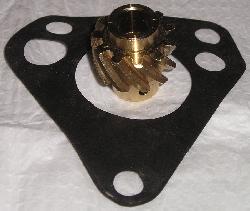 Bronze Oil Pump Gears: $60
For the 232/262/308 engines applications. These new bronze oil pump gears replace the Hudson OEM gears, which were prone to wearing. Made for us by Mallory Distributors.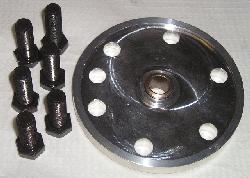 Crank Adapter Kits: $120
These kits allow you to use you to replace your earlier motor with a 1955-1956 Hudson engine with the earlier (1951-1954) Hudson hydromatic. Includes adapter and bolts.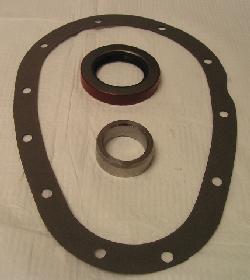 Crank Shaft Spacers Kit: Total Kit: $45
Separately: Spacer-$20, Seal-$18 Gasket-$12
For the 232/262/308 and 8-cyl.engine applications. Originals are prone to grooves from the timing cover seal this eventually leads to timing cover oil leaks. These are newly remanufactured to replace your timing cover spacer, gasket and seal and solve the leaking.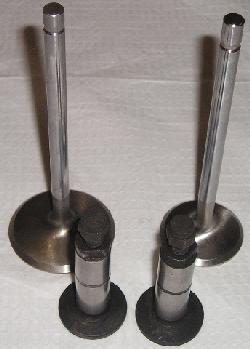 Stainless Valves: $180 for a set of 6
For the Hudson 232/262/308 flathead 6 engines.
Stock, mild (7X) and full race sizes available.

Stock valves–intake:
1.847 (45 degree) stock length 5.735
1.847 (45 degree) 5.400 long, use with aftermarket lifters 5.400
Stock valves–exhaust:
1.570 (45 degree) stock length 5.735
1.570 (45 degree) 5.400 long, use with aftermarket lifters 5.400
7X valves–intake:
2.000 (30 degree) stock length 5.735
2.000 (30 degree) 5.400 long, use with aftermarket lifters 5.400
7X valves–exhaust:
1.687 (45 degree) stock length 5.735
1.687 (45 degree) 5.400 long, use with aftermarket lifters 5.400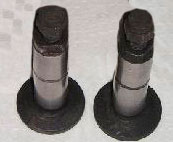 Lifters: $156 for a set of 12
For the 232/262/308 Hudson engines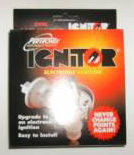 Electronic Pertronix Distributors
for 232,262 and 308 engines: $155
Have us rebuild your Pertronix distributor for 1948-56 Hudson "6" Or install kit yourself. Do it yourself kits are $155.00 (Note always check your weighs for excessive wear if you install yourself)

Reground Camshafts:
We sell a variety of different duration and lift cams. We have cam sizes that are available for stock, mild (7x) and full race applications
Cams sizes available are the following:
1955-1956 Mechanical Cam: 372 lift, 254 duration $245
Super 7X Cam: 391 lift, 268 duration $260
Super Street Cam: 402 lift, 276 duration $265
Race cam is Isky: 446 lift, 280 duration $265


All + $60 for core
Carburetor Kits: $48 per kit
We offer the following kits for the models below:
| Years | Model | Carb Type | Carb Numbers | Kit # |
| --- | --- | --- | --- | --- |
| 37 - 40 | All w/ 2bbl | WDO 2bbl | 344, 377, 402, 430, 455, 461 | 705 |
| 40 - 42 | 6 cyl 1 bbl | WA-1 1bbl | 454S | 703 |
| 41 - 49 | All w/ 2bbl | WDO 2bbl | 501, 502, 647, 648 | 707 |
| 50 - 54 | All w/ 2bbl | WGD 2bbl | 773, 776, 2115 | 709 |
| 50 - 53 | Pacemaker | WA-1 1bbl | 749S | 713 |
| 51 - 56 | Hornet | 2X1 WA-1 1bbl | 968, 2113S | 713 |
| 52 - 54 | Wasp | 2X1 WA-1 1bbl | 990,2114S | 715 |
| 53 - 54 | Jet all | WA-1 1bbl | 2009,2013S | 715 |
| 55 - 56 | Wasp 6 all | WA-1 1bbl | 2009,2013S | 715 |
| 55 - 56 | 306 w/ 2bbl | WGD 2bbl | 2252,22S1S | 709A |
| 55-56 | Hornet V8 | WGD 2bbl | 2231S | 709A |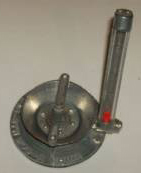 Unsync: $45
For balancing your Hudson Twin-H carburetors
Twin H Carb Spacer Gaskets: Set of 8 $40
Upper and Lower radiator Hoses: $35 each
Original Style Molded Hoses
For 1948 thru 1954 Hudson engines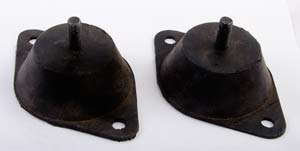 Motor Mounts:
1934–1947: $65
1948–1954: $60
Hudson 6 Water Pump: $155
1948 to 1954 Hudson Engines
Hudson Fuel Pump: $155
Double Action for 1948 to 1954 Hudson Engines
21st Century Hudson | Randy & Russ Maas | Hudson Parts and Restoration Specialists